PASOLINK
NEC State of the Art Technology
2048QAM solution
Achieving in excess of 1Gbps capacity, 2048 QAM high order modulation drives the future of microwave transmission. NEC pioneered the commercial use of 2048 QAM, which requires exacting control, with now over 58,000 TRs (as of Jan. 2016) in solid operation
2048QAM iPASOLINK Family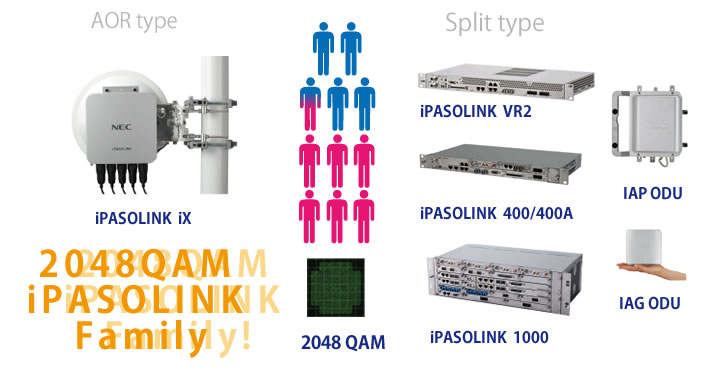 iPASOLINK VR2 with 2048 QAM was released. Then full member of 2048 QAM iPASOLINK Family is ready for deployment.
iPASOLINK VR2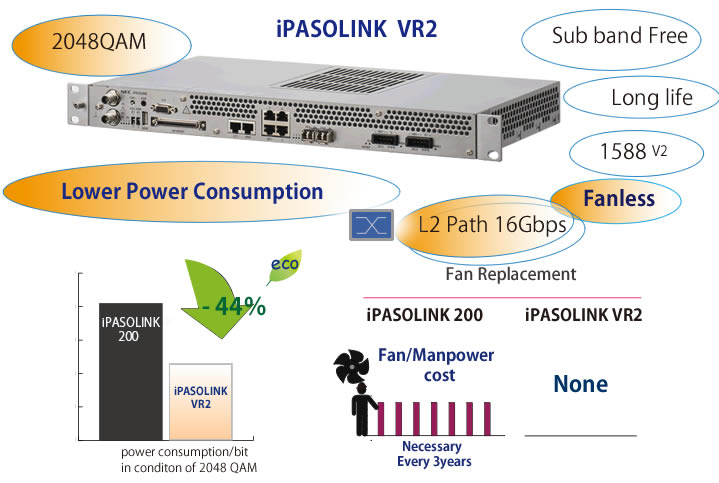 iPASOLINK VR2 supports 2048 QAM, and other features such as sub-band free, IEEE 1588v2, etc., and designed for lower power consumption. Fan-less operation expands degree of freedom in installation scenes, and also reduction of OpEx is anticipated. Even more with carrier grade packet swich iPASOLINK VR2 realized 16Gbps L2 Path.
NEC's High Power ODU
NEC also developed the highest power ODU in the industry, with groundbreaking application of GaN technology. It acheives the highest TX power with the lowest power consumption.

This power efficient ODU supports up to 2048 QAM.

The combination of iPASOLINK VR2 and IAP ODU with 2048 QAM can replace existing 256 QAM link without any other additional equipment and modification of the link.
NEC Microwave Radio 'KNOW HOW' Optimizes PERFORMANCE & TCO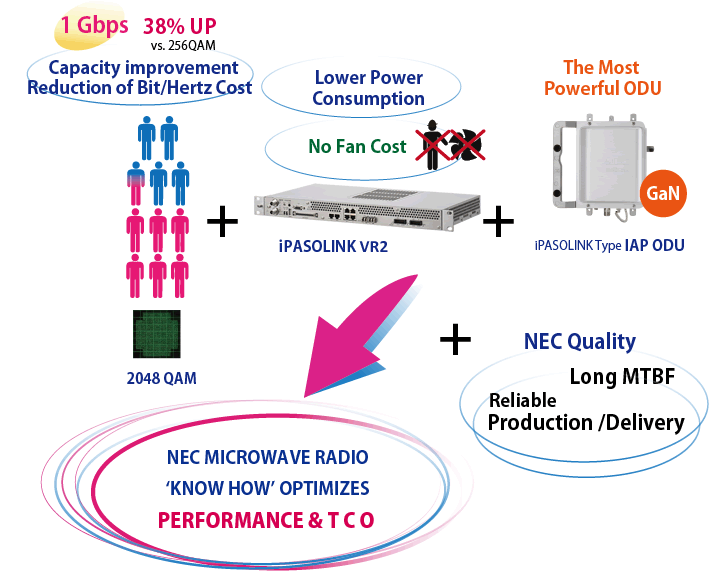 You can count on NEC for rich features, high performance, and reliable production, the NEC quality, as the partner of choice for your business.
More Information