DTU-70 Series : Liquid-Cooled Digital UHF TV Transmitter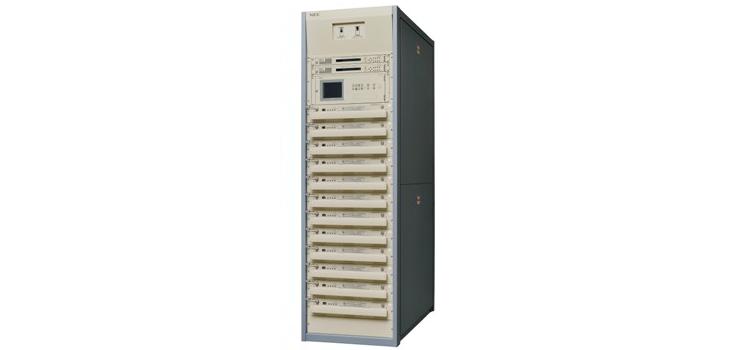 DTU-70 series is the newest model of digital TV transmitter produced by NEC, which has been developed on abundant experience accumulated over many years history.

As well as its compact body, DTU-70 series has achieved improvement of its power efficiency up to 25% compared with the former model. The new feature realizes reduction of Total Cost of Ownership. Also, the DTU-70 supports DVB-T/ DVB-T2, ISDB-T/Tb, ATSC digital standards.
Features
High Efficiency By NEC innovated technology, the DTU-70 Series realize efficiency values of more than 25%.

- VDD optimization of PA for stable voltage.
- Crest factor reduction with new exciter, and   new non-linear correction for keeping optimum performance.
Smaller Footprint Up to 14.3kW output power (average), using 12 sets of PA units, can be provided in a single rack. The occupied footprint has been reduced up to 63 % compared with the former model. 615 (W) x 2,000 (H) x 1,200 (D) mm can be considered as one of the smallest digital TV transmitter.



Built-in pump unit and band-pass filter for same one rack with transmitter up to five amplifiers

Flexible System Configuration
Various system types can be proposed depending on flexible customers' requirement, such as:



*

Single transmitter

*

Single transmitter with dual exciter

*

1+1 System (Main Stand-by)

*

Active Stand-by (Parallel Operation) * N+1 System
Datasheet