DTU-70D Series : Liquid-Cooled Digital UHF TV Transmitter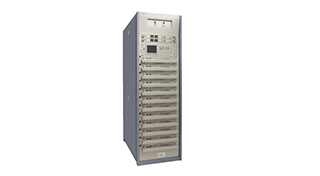 DTU-70D series are NEC high-power range digital TV transmitters newly developed on the basis of high technology of ICT and deep wisdom gained in a century of history of NEC. In addition to the "reliability" which has been extensively appreciated in the world, one of the essential elements, "high-efficiency", has been added to this new model. NEC offers you DTU-70D with supreme confidence that surely fulfills your high-level expectations.
New Concept of Doherty Transmitter
NEC has a rich experience in Doherty technology with the first NEC commercial-based transmitter with Doherty amplifiers manufactured in 2011 for Tokyo Metropolitan area, achieving drastic improvement in power consumption (more than 40% better than the existing model). NEC market share of Doherty TX segment in Tokyo has now reached to nearly 50%. And this time, by making the most of this brilliant experience, NEC proposes DTU-70D series with a new concept of Doherty transmitter for global customers.

The core philosophy of NEC Doherty transmitter is to enable the customer to always enjoy the best energy efficiency of each selected channel (up to 38%). By initially fixing the operational frequency of each PA unit into a single channel, DTU-70D achieves the most beneficial and appropriate form of Doherty transmitter. Once users become needed to change channel frequency, a bit of time and work will be requested. But the process is simple; only a few components of the amplifiers have to be replaced and it neither requires any special instruments nor skills. The customers may have to be asked to take such a little burden, but there is no more concern that the enjoyable performance would be fluctuated depending on the designated channel. Minimal lifetime cost solutions (both CAPEX and OPEX efficient) would be effectively ensured.
How we realize "high-efficiency"
Doherty Power Amplifier

NEC new Doherty amplifier, UX5000QF, has been developed to vigorously support the customer's power-efficient operation. Each unit can produce approximately 1,500W of output power (average), and it can also greatly contribute to the cost and space saving.

UX5000QF employs LDMOS (Lateral Diffused Metal Oxide Semiconductors) output devices with protection and monitoring circuits, and strongly support the high linearity and reliability of DTU-70D series.
Further Contribution to Energy Savings

As well as Doherty technology, various factors newly innovated for the NEC latest transmitters considerably contribute to significant improvement of energy efficiency.