PASOLINK Quality
NEC PASOLINK Production quality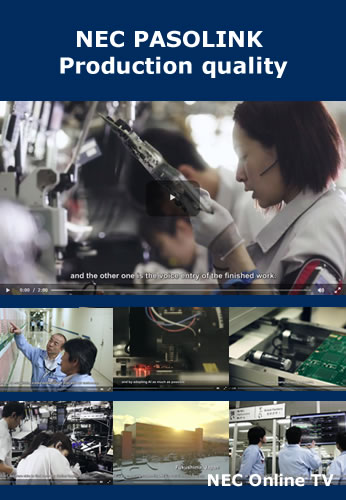 Making iPASOLINK begins from cultivating individuals

- productize cutting edge, premium technologies
- deal with manufacturing requirements that differ from
region to region
- honor delivery dealines requested by the customers

Ever since the debut of the first PASOLINK, the manufacturing line has routinely dealt with production innovation.
One of measures is the qualification called
the Line Creator.
It is to be acquired by each individual.
Not only is acquisition of skills and knowledge important, but equally important is the creative ideas for building and improving the lines.
Around the Line Creator, no space is being wasted, down to the placement of tools and inspection apparatus.
being conscious of these details serve as the foundation for PASOLINK's quality and reliability.
Relentless pursuit to provide the highest level of customer satisfaction.
This is how PASOLINKs are made.