Small Cells Product
MB4420
Product Description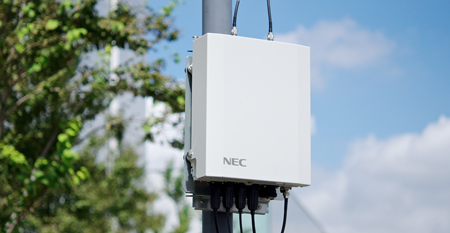 Compact Design, Flexible Deployment
NEC provides a compact and lightweight design that integrates BBU with RRH in a single unit called the all-in-one eNodeB (MB4420). This site-independent, one-person-lift eNodeB offers multiple installation options; it can be installed outdoors or indoors without preparing a special equipment room for the indoor BBU unit. Given the node's minimal space requirements, it can also be mounted on a wall or pole.
In addition, MB4420 offers the SON plug-and-play feature where eNodeBs are automatically self configured after being switched on at each site.
This can radically reduce installation time and associated costs.

MB4420 can also extend network flexibility. MB4420 is not just suited to Small Cell networks for high-speed services, but can also be adapted for heterogeneous networks with enhanced hot-spot service provision and seamless coverage, free from dead spots. In order to make deployment even more flexible, MB4420 offers multiple backhaul interface technologies such as microwave, optical fiber and electrical ether that enable LTE network operators to select services based on conditions at their individual sites.
Enhanced Capacity
The ever-increasing demand for high-speed data is fast depleting current network capacity. NEC believes, that however fast the data transmission speed, the boom in smartphone traffic and increased diversity of services offered through mobile connections will lead to an inevitable LTE presence. NEC understands the importance of high capacity in current and future networks, and we believe that our MB4420 is the most promising means of ensuring capacity-centric, high-quality LTE services for LTE network providers going forward.
Easy Network Optimization
NEC's MB4420 can be enhanced by SON suite features that maintain its optimized high performance. This is done by automatically regulating interference or any other degradations in quality and then applying optimal parameters at each site. SON's self-optimization mechanism thoroughly analyzes and constantly adjusts the associated parameters, maintaining the best user experience and minimizing tedious, conventional manual operations and maintenance.
User-friendly Operations and Management (O&M)
NEC's field-proven EMS provides extensive, user-friendly operations and management capabilities, and redundancy support for high reliability. The EMS also employs standardized interfaces to flexibly connect to the related nodes, including northbound interfaces that interact with the upper Network Management System (NMS).
Eco-friendly
NEC's environment-conscious product design contributes to a clean and comfortable environment for people and societies through the products' low power consumption, fan-less cooling and zero-noise system.
Features
LTE Hot Spot Enabler

- One-Man Delivery; <8L, <8kg
- Easy & Fast Deployment
- Zero Foot Print, Wall/Poll Mount
- Automation; SON managed

High Capacity/Performance/Future Proof

- Adjustable transmit power (1~5W)
- Flexible bandwidth support; 5/10/15/20MHz
- WiFi integrated, Antenna integrated option
- It can be used as RU (Radio Units) for NFV C-RAN

Backhaul Flexibility

- Electrical/Optical backhaul interface
- AOR (NEC's wireless backhaul solution) interworking

Green LTE

- 1st Class Power Efficiency 150W@2x 1~5W
- Fan-less, Zero noise
- AC commercial power supply