Small Cells Solution
Mobile Broadband Access
Customers' Needs
Today's network service providers are witnessing an explosion in data traffic, with traffic volumes expanding at a much more rapid rate than revenue increase. Densification through small cells is a solution known as the most effectively way to meet this growing demand. Even if small cell is the effectively way, Cell (Site) planning by traditional way which is based on static PM data can not detect the optimal site location so that the gain of small cell becomes limited. Network service providers is now faced with a demand to have a solution to detect the optimal site location and improve QoE of end users.
NEC's Offer
NEC offers Customer Experience (CE) solutions which realize optimal Radio Network based on customer experience by user centric quality data collection, analytics and visualisation. This enables high ROI (Return of Investment) through a series of activity aimed at:

Data Collection

- Crowdsourcing-based data collection

Analytics

- Identify problem
- Site detection
- Analysis of user behaviour

Visualisation

- Visualisation of the results of data analysis
NEC offers a variety of Solution portfolio for enhanced customer experience based on the analysis and visualisation of network performance.
Small cell delivery
Capacity Solutions
Coverage Solutions
Optimization Solution
Professional Service
Quality Assurance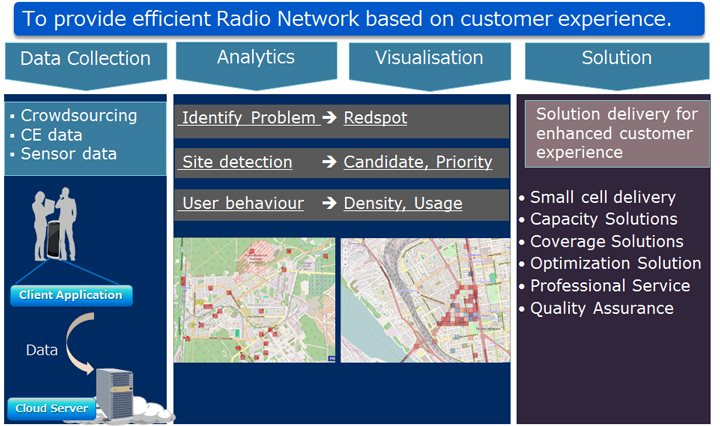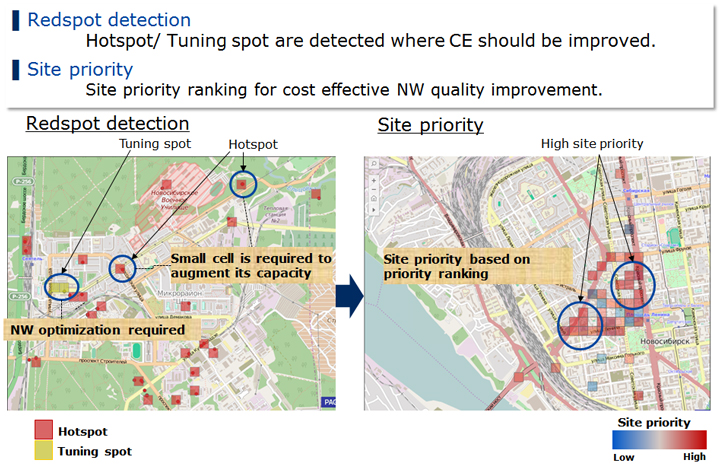 Customers' Benefits
Customer experience improvement

- Improve user data speed
- Optimize capacity and coverage by Redspot detection
- Better customer experience and improve user loyalty

Revenue increase

- Increase ARPU due to data traffic increase
- Reduce churn due to enhanced customer experience

TCO saving

- CAPEX saving: Prevent ineffective network investment
- OPEX saving: Reduce drive test and network optimization cost
Products