Products: POS Solutions
Configure the ideal solution for your retail environment from wide-ranging NEC point-of-sale hardware and software products. Refined based on 30 years of POS expertise, they offer high performance, compactness, reliability and energy efficiency, as well as new industry-leading serviceability.
Touchscreen POS Systems
The flexible and stylish POS offering high reliability and maintainability.
Select installation and color options to enhance your store ambience.
Compact Modular POS Systems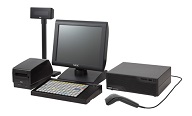 All-round model that can cover wide ranges of requirements. See its outstanding flexibility, serviceability and performance to slash down your TCO.