TWINPOS G5 (Discontinued)
The availability of this product varies depending on region.
For inquiries, please contact your local NEC or visit the contact page.
Move beyond the status quo
NEC's renowned DANTOTSU "leading-edge" technology for unparalleled performance and serviceability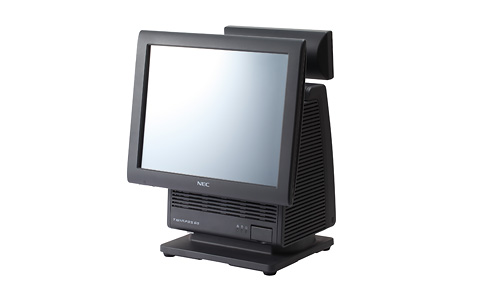 Intel Atom™ D525 1.80GHz/ Celeron®, Intel Celeron® P4505 1.86 GHz / Core i3 330E, 2.13 GHz / Core i5 520E, 2.4 GHz
Lower TCO
Tool-Free/Faster Maintenance
High durability against water spills and dust, robustness and environmental friendliness
Flexible and scalable configuration
Fan-less option
A sequel in the "TWINPOS Series", TWINPOS G5 delivers TCO-slashing serviceability and powerful energy-efficient performance — made possible by NEC DANTOTSU "leading-edge" technology that scales and flexibly satisfies the highest expectations of demanding retailers worldwide.

TWINPOS G5 design advances environmental durability and high quality materials retain the stylish, crisp store ambiance. Key components servicing is engineered for completion within 5 minutes; reducing labor and minimizing technician levels. Dual built in LCD touch screen POS and a space-saving footprint maximize promotion and cashier area. All this combines making the TWINPOS G5 ideally suited for retail chain stores such as grocery, drug ,convenience and specialty stores as well as quick-service restaurants. Discover proven performance and unparalleled reliability ... discover TWINPOS G5!
*

Features and specifications are subject to change without notice.

*

Microsoft Windows and the Windows logo are trademarks or registered trademarks of Microsoft Corporation in the United States and other countries.

*

Celeron® is a registered trademark of Intel Corporation. See the notes in the relevant products for details. The colors of products shown in this website may vary from actual product colors due to printing conditions.

*

Core™ and Atom™ are trademarks of Intel Corporation.

*

When exporting this product, follow the necessary procedures such as application for export permits from the Japanese government, as stipulated in the Foreign Exchange and Foreign Trade Control Law. Also, follow the required procedures for applicable U.S. Export Administration Regulations or other foreign government regulations.